As an Amazon Associate we earn from qualifying purchases.
Clear stamps are assets of art & craft fanatics. Moreover, they need some appropriate cleaning methods to improve the stamping quality. Adapt the correct cleaning methods, and you can make your stamps last longer.
How To Clean Clear Stamps
Stamps need to be handled delicately as they are thin pieces of paper and one wrong move could destroy them. For the passionate, here's a guide on how to clean clear stamps:
Method 1: Cleaning Clear Stamps With The Use Of Stamp Cleaning Spray
It is the most convenient and easy method to clean and tidy the clear stamps. Follow the steps to get it over with: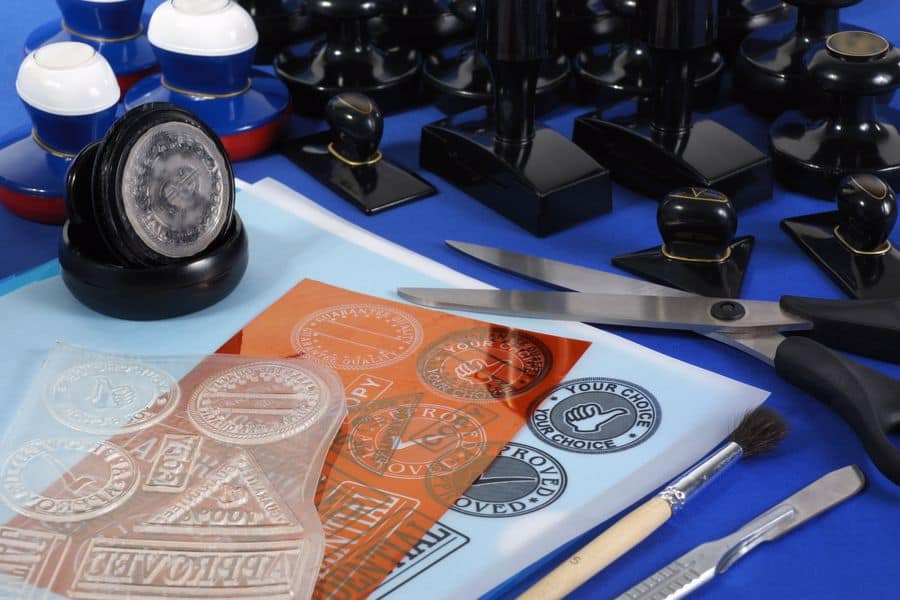 Step 1: Get All The Necessary Supplies From Online Or Offline Store
Get the stamp cleaning pads
Arrange or buy stamp cleaning spray.
Arrange scrap paper or paper towels.
Step 2: Cleaning The Clear Stamps
Use scrap paper for stamping out the excess ink from clear stamps.
Place the stamps on the cleaning pad.
Spray the cleaning solution over the pad.
Scrub the stamps. 
Repeat the stamping and spraying process yet again to ensure that they are completely clean. 
Dry them with the use of a paper towel. 
Now, place them back on the stamp sheet to store them properly. 
This video will give further details about the cleaning clear stamps.
Method 2: Clean The Clear Stamps With Baby Wipes
With the proper habits, you might not even need to use special cleaners for stamp cleaning purposes. We suggest cleaning them right after every use. 
Step 1: Dry The Stamp Over A Piece Of Paper
Take a piece of paper. (Preferably scrap paper) 
Stamp out the clear stamps to dry it out completely. Do not let the ink dry on stamps.
Step 2: Use Baby Wipes On Clear Stamps
Make sure the excess ink is out.
Use baby wipes to scrub and clean the clear stamps. 
The baby wipe should not consist of any alcohol content. 
Repeat the process until the stamps are clean.
Let the stamp air dry before you store it. 
Method 3: Cleaning Clear Stamps With The Use Of Mild Dishwashing Detergent
If you don't have baby wipes, you need to use dishwashing detergent instead. Dishwashing detergent works for most cleaning jobs like cleaning body pillows and sandstone walls.
You will need a mild dishwashing detergent.
Apply it on the stamps.
Gently Scrub it under the running tap with warm water.
Be careful not to scrub vigorously, as it might damage the clear stamps. 
Once clean, leave it to air dry before you can store it. 
Frequently Asked Questions
Can I Use Rubbing Alcohol For Cleaning Clear Stamps?
No, alcohol is not permissible for cleaning the clear stamps, as it will damage them. Along with that, you must also avoid using bleach, oil-based cleansers, and acetone for cleaning clear stamps. 
What Inks Should I Avoid Using To Prevent Excessive Staining For My Clear Stamps?
Some of the inks, such as chalk inks and permanent inks, are not recommended for clear stamps. They cause severe staining and require more cleaning efforts. 
How To Know If My Clear Stamp Is Clean Enough?
Stamp the clear stamps on a wet towel and then stamp it again on a dry towel. If you see no mark, then the stamp is clear enough for the purpose. However, if it leaves a mark, then you might have to clean it thoroughly. 
Conclusion
If you are into art & craft, it is evident that you have clear stamps. There are several ways of using them on different projects. Furthermore, with every use, they demand regular cleaning efforts, without which the ink-residue is passed on to the subsequent work that you do.
Therefore, make sure you clean your clear stamps after every single use.