If you buy something through a link in our posts, we may get a small share of the sale.
After a day filled with hard work, sound sleep is essential for staying healthy. While the bed you sleep on plays a critical role in how well you sleep, a headboard adds to the bed's aesthetics. In this article, you will see how to clean a fabric headboard.
How To Clean A Fabric Headboard
The dirt build-up on fabric headboards could be due to various reasons, like the natural oil from hair and skin, pet fur, or even makeup, making them look dull and grimy with time. Similar to body pillows, bedsheets and pillowcases, fabric headboards need regular cleaning too.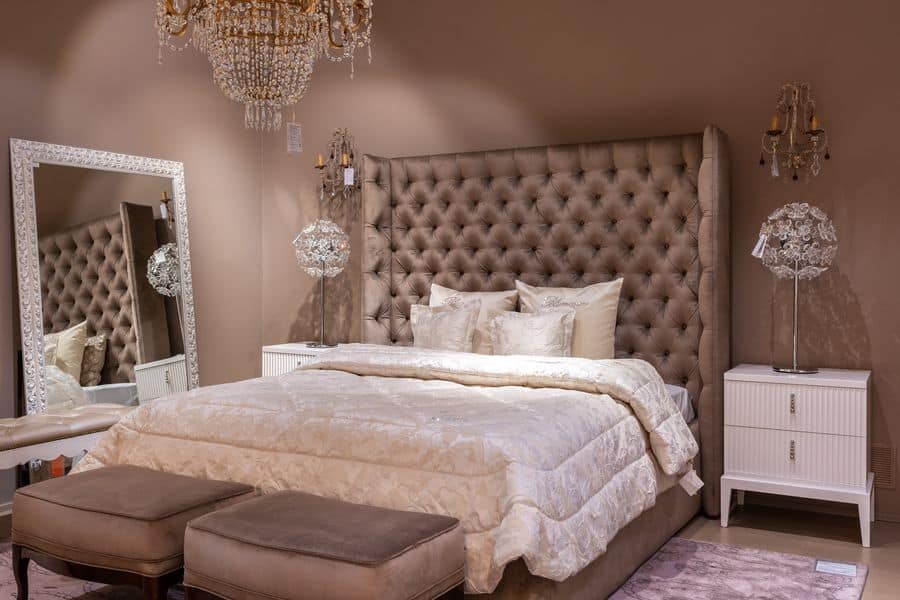 Materials Required
A fabric protector spray
The detergent used for laundry
A clean piece of cloth or a rag
A bucket
A spot cleaner spray 
A vacuum cleaner
A blow dryer, if available
Step 1: Use Fabric Protector Spray
This is both a preventive and a cleaning measure. Doing it at the outset can save your headboard from many undue spots and reduce the efforts needed while cleaning.
Use newspaper to cover the non-upholstered surfaces before applying the fabric protector spray to avoid damages caused by potential over spraying.
Next, test if the spray is damaging the color of the fabric on your headboard. Apply a small amount of the spray to a part that is not easily visible.
Rub it vigorously with a piece of cloth and ensure no color comes out before you can proceed further.
Once you are satisfied with the quality of the spray, apply it uniformly over the entire surface of the headboard.
After this initial spray has completely dried up, apply a second coat.
Applying this protector spray ensures that your fabric does not accumulate much dirt and is easier to clean.
Step 2: Use A Vacuum Cleaner
After initial cleaning has been done using the fabric protector spray, you can begin using the vacuum cleaner for further cleaning.
To suck off all the dust from the headboard, use the upholstery attachment on the vacuum cleaner.
Dust is more likely to accumulate near the buttons or any cracks that might have developed on the headboard. Take care to clean them properly.
If you regularly use a vacuum cleaner to clean the dirt, you reduce the risk of your exposure to potential allergens carried by dust.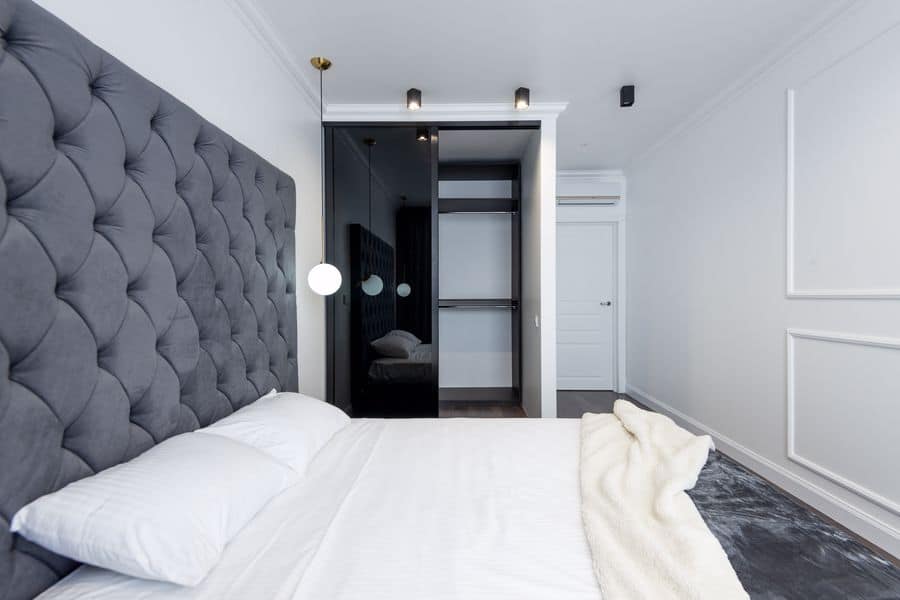 Step 3: Use Detergent
After cleaning the dust, the step involves using detergent to remove stains on the fabric.
Fill a bucket with lukewarm water and add a few scoops of fabric detergent to make a solution.
Test if the solution causes color fading of your fabric by applying it on a small and not easily visible area of the headboard. 
If it looks alright, apply the solution to stain marks that are present on the fabric. Use a rag or clean piece of cloth to do the same.
Work gently on the stains, and the cloth you use must go well with the material of your fabric. Preferably use natural fibers for cleaning.
After soaking the fabric completely in the solution, rub the stained areas smoothly till the stain marks disappear entirely.
Step 4: Use Upholstery Spot Cleaner
Even after rigorous cleaning with the detergent solution, it may happen that the stain marks do not disappear completely. In this kind of situation, use an upholstery cleaner suitable for the fabric type.
Spray the cleaner gently on the stained surface and let it sit for some time. 
Then, use a piece of cloth to rub the spot cleaner uniformly over the entire surface.
It is not advisable to use these commercial spot cleaners with sensitive fabric like velvet or polyester. Use it only when necessary and in small amounts.
Step 5: Dry The Fabric
If your vacuum cleaner supports wet cleaning, use it to remove moisture from the fabric.
If you do not possess such an item, you have to make sure you dry it properly before you can begin using it. Not drying it correctly can cause it to stink.
Place the fabric under a fan so that the fast wind can dry it effectively.
It is advisable to dry the fabric under sunshine if possible as it can kill any potential bacterial growth on the surface of the fabric.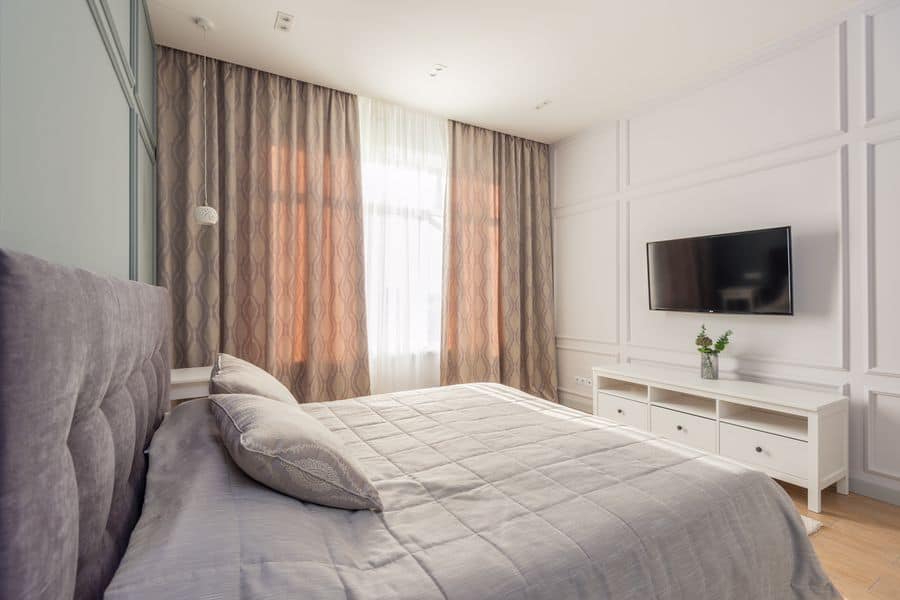 Step 6: Make The Fabric Smell Good
After you have completed cleaning the fabric, you can use some natural and homemade cleaners to make the fabric smell beautiful.
Make a mixture containing baking soda, cornstarch, cornmeal, bay leaves, borax, and some cinnamon. 
Grind them finely to ensure that they have a fine powdery texture.
Put this powder in a clean piece of cloth, and with the piece of cloth, rub the powder on the fabric surface.
Let the powder stay on the fabric for some time so that some of it is absorbed in the fabric.
Use a vacuum cleaner to remove the excess powder articles and clean the fabric.
This process adds a nice smell to your fabric. Here's a quick video guide to help you with the headboard cleaning process.  
Frequently Asked Questions
How Often Should A Fabric Headboard Be Cleaned?
You should ideally dust the headboard weekly and clean it thoroughly once a month. But, how frequently you want to clean your headboard depends on how much dirt it accumulates. It also depends on the weather, and on the amount of time you can invest.
Is It Expensive To Clean A Fabric Headboard? 
No, you can use household items to clean a fabric headboard. Barring from chemical stain removers, most things required to clean a headboard are items of daily use. Also, cleaning the fabric regularly ensures that it is in good condition and stays usable for a long time.
Hence the cost involved in cleaning it is a fair trade-off.
Conclusion 
The fabric headboard used along with adds a significant visual effect to the bed. Therefore, it is essential to keep it clean, and doing it is very simple. If proper care is taken while cleaning the fabric, it will continue to make your bed look good for a long time.