As an Amazon Associate we earn from qualifying purchases.
Sauna suits are designed to increase the body's core temperature. Unfortunately, this often leads to sweating and picking up the stinky smell.
How to Clean a Sauna Suit
Sauna suits are easy to breed bacteria. Therefore, if you are using a sauna suit, you must know the method of cleaning it. Read the article below to get a view from your lens on the procedure of keeping a sauna suit clean.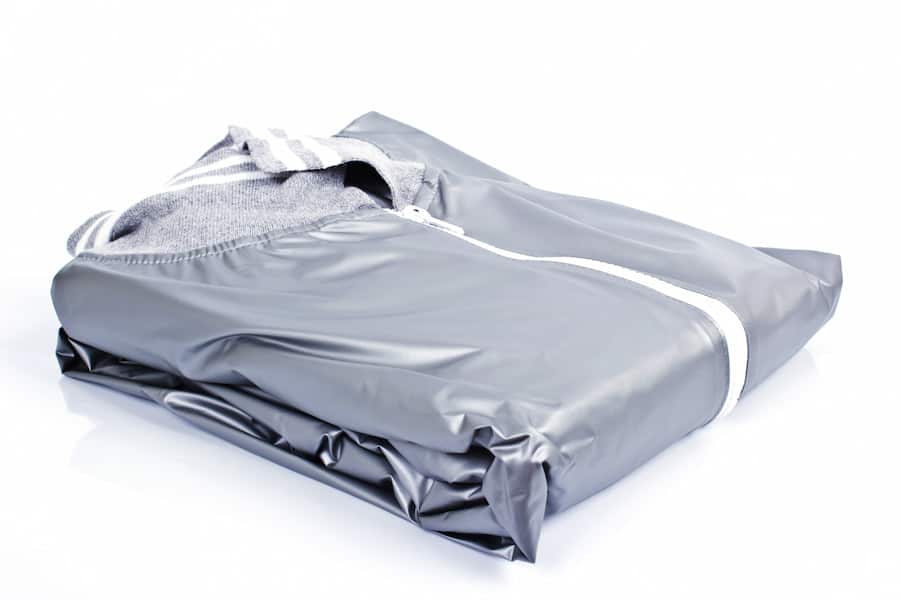 Procedure to Clean Sauna Suit
Before you begin the cleaning process, it is essential to look at the checklist for cleaning a sauna suit.
First, check the label of the suit.
Post-workout cleaning.
Wash with mild detergent.
Hang dry the suit.
Materials Required
Fabric Cleaner/Gentle soap
Water
Step 1: Handwash It
Sauna suits are made up of nylon or PVC, which are easy to handwash at home. That said, the very first tip is to read the label.
A lot of companies sell sauna suits, and every suit has differences in material. Therefore, it is advisable to read the label to prevent damage to your sauna suit.
Pour any mild detergent and soak the sauna suit for half an hour. 
Next, submerge the suit well in water, ensuring at length it is soaked in water.
After half an hour, wash it well. Finally, wring the suit and rinse it in running water.
Sauna suits are easy to hand wash. With a little bit of detergent, the sweat breaks down. It ensures the bacteria build-up in the suit gets cleaned with ease.
Here is a video guide to follow for cleaning sauna suits.
Step 2: Machine Wash It
Sometimes after hand washes, it does not feel clean. In that case, if the label allows, you can wash it in the machine.
Read the care label on the sauna suit and check the recommended temperature for washing the suit.
Set the right temperature in the machine and then put gentle fabric cleaner.
Next, select a gentle or delicate cycle in the machine for washing the sauna suit.
Avoid full cycle spin, and this can damage the suit.
Machine wash is simpler and quicker than hand wash. In addition, you don't need to prepare the sauna suit before rinsing it well.
Step 3: Dry the Sauna Suit
Regardless of the technique, you used to wash the sauna suit and dry it well.
Next, use hanger clips to hang the sauna suit outdoor.
Keep it under the sun, in your clean Azek decking, and this will prevent any bacteria build-up after cleaning.
Sauna suit takes time to dry; leave it overnight.
Do not wear it until the suit is thoroughly dry. After it has dried, use it again for workouts.
Step 4: Post-workout Care and Maintenance
Regular care beats the occasional cleaning of the sauna suit. It can prevent bacteria build-up, a foul smell, damage from the dried sweat.
To keep the sauna suit fresh, wash it with tap water after every workout.
Avoid scrubbing or washing it with harsh chemicals.
Here is a tip that you can include in the post-workout care of the suit. Wear it and take a bath in the shower. This will ensure you don't need further hand washing of the sauna suit.
The procedure is simple and saves your time in mid-week.
If you train every day, wash it with detergent once a week. This completes the cleaning process of your sauna suit.
How to Store Sauna Suits
When you are not using one, you must store it well. The sauna suits are like any other suit; longevity lies in maintenance and care.
Sauna suits must be stored in a hanger and kept well under plastic wrap. The plastic wrap traps the heat, and it does not change with time. Therefore, sauna suits require consistent temperature in the room. Otherwise, it loosens over time.
Using plastic wrap is a tested method that does not require much effort. Also, never store the sauna suit without washing it with water. The germs grow in the sweaty arms of the sauna suit.
Sauna suits are used during workout sessions, and in combats, the heat traps inside the body, revving to sweat more. So clean it well, let it dry thoroughly, and after that, store it in the cupboard.
The mechanism of these suits is to trap heat inside, remember when you wash it, make sure you are washing it inside out. In addition, it helps in cleaning sweat stains from the suit.
These are the few things you must keep in mind while storing a sauna suit. It is also important to know the proper way how to use the sauna suit.
Types of Sauna Suit
Everybody requires a different type of sauna suit that suits the body type. Here are some which you can wear depending upon their features.
The sauna suit vests for men are made with polyester and neoprene synthetic materials. The design and material are breathable, light, and flexible enough that you can move with ease.
It has a zipper which makes it comfortable to put on and off. It keeps your shoulders straight and compresses the body to fit perfectly into the vest.
The sauna suit jumper accelerates calorie burn. You can reach your daily exercise level within 30 minutes of working out.
The fabric is comfortable, which makes it easy during boxing or combat training. In addition, the sauna suit is made from ergonomic technology and has an attractive slim fit.
Full Body Women Shapewear Sauna Suit
It is perfect for wearing when you are running errands for grocery shopping. It makes weight loss easier and funky.
It has adjustable straps for easy put-in and zipper closure. It hides the extra fat like other shapewear and gives an hourglass body.
It heats your core abdominal area, making you sweat while performing daily activities. In addition, it helps in defining your waistline and smoothens the bulging fat around the waist.
Benefits of Sauna Suit
Before we begin, it is essential to look at the reasons why the sauna suit is popular. But, first, what are its health benefits?
Several companies sell sauna suits that suggest health benefits, although these are not backed up clinically.
A good workout drenched in sweat means you are giving it all for weight loss in the gym. The Sauna suits are designed with the purpose of weight loss by increasing fluid loss through sweating. Here are some benefits of a sauna suit.
Sauna suit enhances the body temperature, hence trapping the heat inside, resulting in increased perspiration: the more perspiration, the lesser water retention.
The sauna suit accelerates the weight loss process; the fat converts into energy when the sweating increases. This makes the fat burn and weight loss like a cakewalk for you.
Heat Retention in Cold Water
The sauna suit helps in the retention of heat in cold weather. So in cold weather, put on your sauna suit and go for a quick run in the park.
Wear a sauna suit in cold weather during exercise elevates the pulse rate and makes blood vessels flexible, encouraging harmonious all-round circulation and the flow of nutrients to the growing muscles.
Frequently Asked Questions
Can I Wash Sauna Suit In Washing Machine?
Yes. You can. The sauna suits are made up of neoprene synthetic material which can easily be washed in the machine. Turn the jacket inside out and keep it in the mesh bag.
Find the gentlest washing option and run it in cold water. Do not use an abrasive cleaner as it can damage the synthetic fiber of the sauna suit.
Do not put it in the dryer; use a cotton towel to wring out the extra water. Then, hang it in the well-conditioned room for drying.
How Long Should I Wear a Sauna Suit?
10-60mins at maximum. There is no definite answer to that. Sauna suits are designed to raise the body temperature and profuse sweating. But, it has ill effects too if worn for a long period.
If worn for too long while exercising, it can lead to dehydration and can be fatal. According to the official website of Hootsuite, wear it for 5-10mins when it is new. Let your body get adjust to this suit.
How Often Should I Wash the Sauna Suit?
Once a month, after every workout session, wash the sauna suit with water. If you are training every day, then wash it once a week with detergent.
Washing it with detergent cleans any microbial build-up inside the suit. Keeping a sauna suit in good care has rewarding benefits. The costly suit can be reused for years when it is maintained and washed regularly.
Conclusion
As a whole cleaning, a sauna suit is a simple, straightforward procedure. It does not require much prior knowledge. But, you have to make sure that whatever procedure you follow, you should read the label first.
The modern sauna suits have synthetic polymer, which is easy to maintain and clean. If you have a sauna suit, you are in the path of weight loss. So select the right one and set healthy goals for your body.