As an Amazon Associate we earn from qualifying purchases.
Chandeliers are beautiful inclusions for residential and commercial properties. Both antique and new brass chandeliers have a wonderful appeal. However, the hassle of their maintenance is also a concern.
Luckily, adopting the right cleaning methods can keep the chandelier looking new.
How To Clean A Brass Chandelier
Cleaning intricate ornate objects like chandeliers seem challenging given one slip of the thumb and you may damage your piece permanently. If you wish to maintain the aesthetic appeal of the chandelier, learn how to clean a brass chandelier with some easy methods and steps.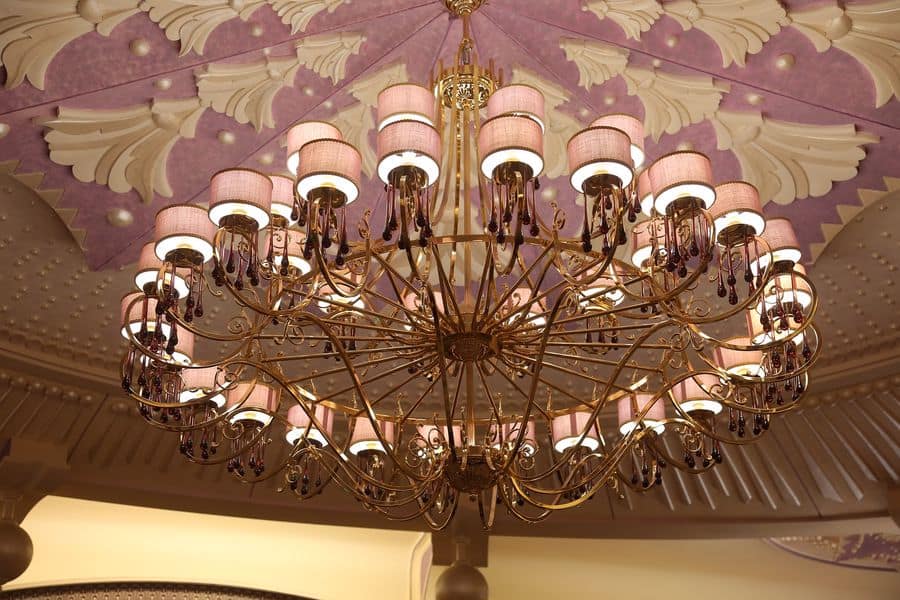 Method 1: Cleaning With A Dish Soap
It essentially meaning cleaning with a solution of detergent and water as Dish soaps are nothing but solidified detergents.
Step 1: Get Additional Supplies 
This step will help you speed up the entire cleaning process.
Get a dish soap and bowl of warm water. 
Arrange for a dry cloth and extra rags. 
Steel wool for tarnish removal. 
You will need specific brass cleaners for solid brass chandeliers.
A polish spray for reviving the shine.
You need to turn off the power and bring down the chandelier.  Remove the light bulbs and tape the sockets. Then follow the steps below.
Step 2: Dusting Is Important
The second step is to commence with the cleaning process straight away. Here is the procedure that you must follow:
Use a dry cloth for dusting the chandelier.
You can use a duster with a handle for easy cleaning. 
Do not apply force for robust dirt or stains, as further cleaning is required. 
Dusting regularly is sufficient for new brass chandeliers to keep them clean. But, if you have an older one with a stubborn stain, move onto the next step after you are over with dusting. 
—
Tip
Irrespective of whether you have old or new brass chandeliers, you must dust them regularly. It will help you maintain it over time and reduce the need for frequent & vigorous cleaning.
—
Step 3: Use The Dish Soap And A Warm Water Solution
Now is the time to commence with the major cleaning procedure for brass chandeliers. If it has a robust stain or dirt, this step will help you remove them. 
Mix dish soap with warm water to prepare the cleaning solution. 
Use a clean cloth and dampen it with the solution.
Reach out to the brass chandelier and wipe it properly. 
Put some firm pressure on tough stain or dirt areas. 
Later, use a clean cloth to dry the chandelier completely. 
Most of the tough dirt, dust, debris, or stains will go away with this cleaning method, as it also works for brass jewelry and cleaning nickel silver items. But, if your chandelier has tarnished, then it will demand different cleaning procedures.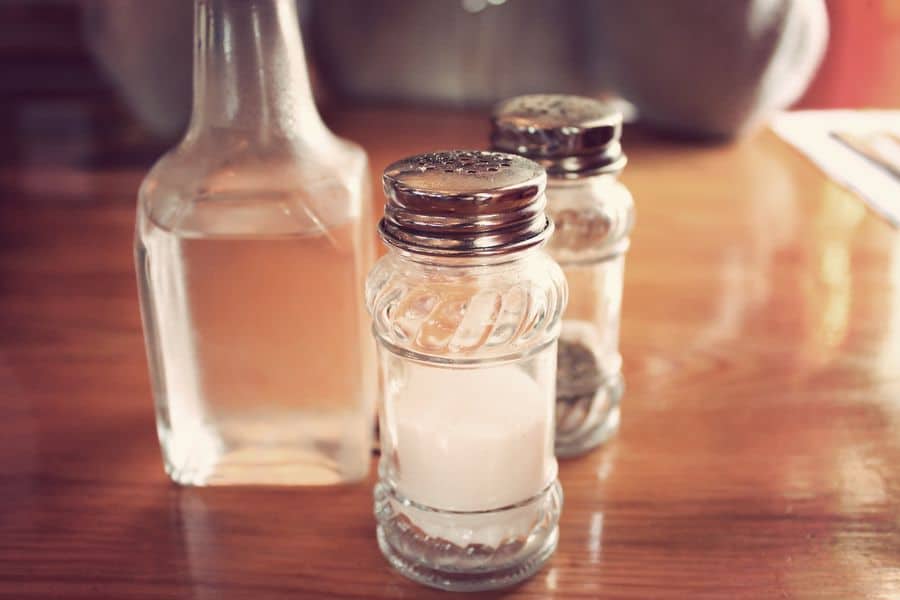 Method 2: Cleaning Tarnish With A Vinegar & Table Salt Solution 
For intense tarnish cleaning, there are some more essential preparations that must be done as simple solutions won't rub the rigid stains.
Turn off the power for the chandelier from the main electrical board. 
Lower the canopy and remove twist caps. Do it safely with the right electrical tools.
Use a voltage tester to check whether the electricity is cut off or not. 
Remove the light bulbs and cover the sockets with tape and plastic. 
Take the chandelier to an area with good ventilation. 
Step 1: Use Hot Soapy Water For Cleaning The Grime Layer
You need to use a mixture of dish soap and warm water to wipe the chandelier properly, as you did in method 1. It will remove all the grime and loose dirt from the surface. After this, you will get a clear picture of the tarnish regions over the chandelier, where you have to work on. 
When the soapy water cleaning is over, dry it all out completely. No soap residue should be left over the chandelier surface. Use multiple cloths to dry the chandelier thoroughly.
Step 2: Use The Hot Vinegar & Table Salt Solution For Tarnish Removal
After you spot the tarnish areas over the brass chandelier, you need to proceed with the below steps: 
Soak a cloth in hot vinegar. 
Dip it in a bowl of table salt. 
Use the cloth to rub on the tarnish areas. 
Repeat it several times until you see the brass is clean. 
Use soapy water mixture for cleaning out the residues of table salt and hot vinegar. 
Later, rinse the soapy water solution properly to clean out the residues.
Now, dry it thoroughly before moving to the next step.
—
Tip
For steel-plated brass chandeliers, you can use steel wool to remove the robust tarnish, they also work pretty well for cleaning thermocouple water heaters. You can later re-plate or paint the area for reviving the shine. You can also use a specific brass cleaner for cleaning out tarnish from solid brass chandeliers.
—
Step 3: Apply Lemon Oil For Polishing The Brass Chandelier
The next step is to polish the brass chandelier and bring out an appealing look. You must polish it before fitting the bulbs and placing it back in position. 
Rub a clean microfiber cloth damped with lemon oil over the brass chandelier. 
Continue with the process until you observe a shiny appeal. 
Do it for all the sides, edges and grooves.
Remove the excess lemon oil with the use of a hot soapy water solution.
Later, rinse and dry the brass chandelier with thorough observation. 
You can get an inexpensive brass polish for the chandelier. Brand products will give you the shine and appeal with just one coat. However, remember not to over-coat the polish as it might ruin the brass.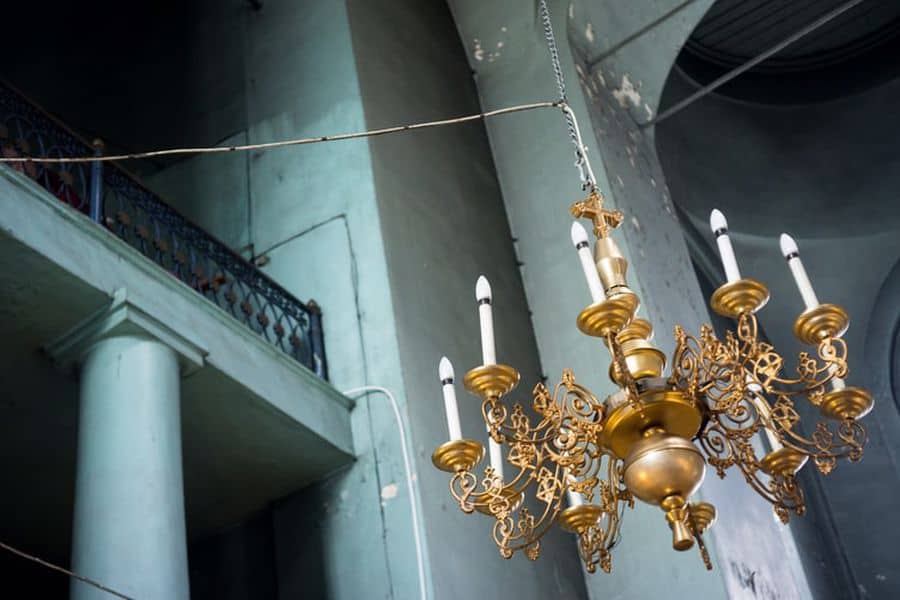 Step 4: Apply Lacquer Spray Or Polyurethane For Tarnish Prevention
The final step is to spray a UV-resistant lacquer spray on the brass chandelier. If not that, you can also apply high-gloss polyurethane on the brass to prevent it from tarnishing again anytime sooner. Give 3 to 4 coatings of it and buff it with a microfiber cloth after each coating. 
You can now install the chandelier back to its original position. Here's a video guide to polishing brass chandeliers.
Frequently Asked Questions
Are These Cleaning Methods Safe To Use On Both Old And New Brass Chandeliers?
While the methods are completely safe for new and relatively new chandeliers, old and antique ones do require delicate hands when cleaning. However, the methods remain the same.
How To Know If The Brass Chandelier Is Steel-plated Or Solid Brass?
Use a magnet to determine whether the brass chandelier is solid brass or is steel-plated. A magnet will not stick onto a solid brass surface, whereas; it will stick to the steel-plated brass. Hence, it is important for you to know this difference to pick up the right maintenance solutions. 
How To Remove Bulbs From An Antique Brass Chandelier?
It is advisable to use a soft cloth while handling the antique chandelier bulbs. Don't hold them tightly. Along with that, you should also avoid touching such bulbs directly with your skin. 
Can I Work On Cleaning The Brass Chandelier Without Bringing It Down?
No, you need to bring down the chandelier. It is because you will have to remove the electrical connections and bulbs for proper cleaning. Along with that, you will also have to cover the ports to avoid damage to the chandelier's electrical functions. 
Conclusion
Brass chandeliers are now common in almost every house. It is because they have that attractive appeal to make people turn their heads around. However, it is important to keep that appeal maintained.
Therefore, follow the above cleaning methods, and you will be able to revive the lost shine of these chandeliers every time they fade.