As an Amazon Associate we earn from qualifying purchases.
Just like all your household belongings, a flokati rug requires timely cleaning and maintenance. Due to natural oils present in wool fibers, the irresistibly soft flokati rugs tend to be long-lasting and stain-resistant. Compared to a hand-knotted rug, a flokati rug requires a higher amount of care due to its fine quality and construction process.
Let's take a look at how to clean a flokati rug.
How to Clean a Flokati Rug
Dropping/spilling a liquid or staining a rug is a common phenomenon when it comes to rugs. Flokati rug is made up of fibers that are just like roots. They soak up any kind of liquid that they come across. This will cause the stain to last if not cleaned immediately.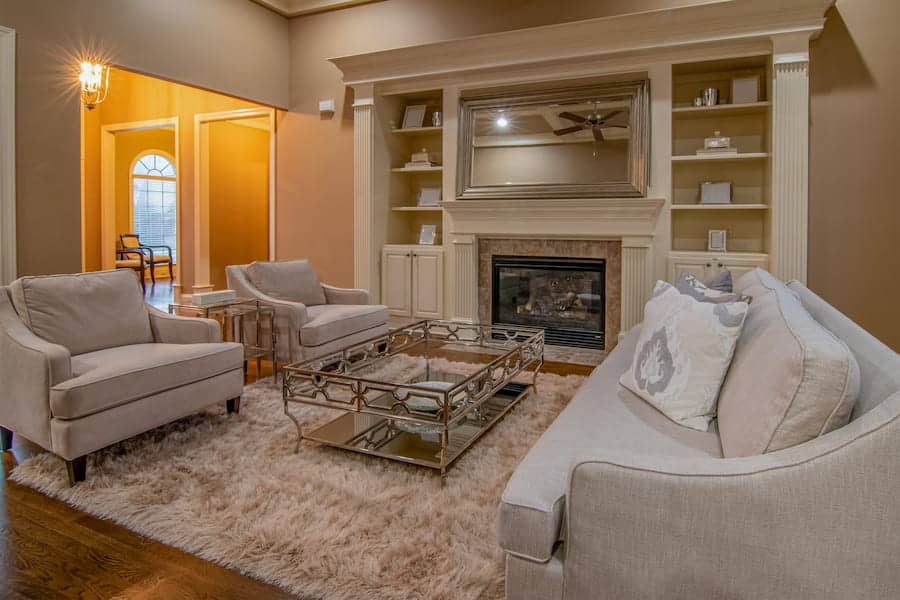 Minor User-Friendly Maintenance Techniques of a Flokati Rug
Altering the wear pattern of the flokati rug. If the rug is in a high traffic area of the house, simply rotating the rug after certain intervals of time will help maintain its wear pattern.
Occasional brushing: The most straightforward way to keep the rug clean for the most extended period of time is simply brushing it whenever possible.
Have you, by chance, dumped cracker pieces on the flokati rug? Don't panic! Just spot-clean that particular area with an upholstery leather brush that is attached to your vacuum cleaner.
Did you just spill a drop of drink or two on the rug?

Dripping and spilling drinks is a common accident. Instantly wiping it off will help prevent forming of stains and keep away from hectic ways of deep cleaning.
Use a cold, dampened piece of soft white cloth, try blotting it and avoid rubbing. Make sure you are not doing it with force, as it might soak deeper into the rug fibers. Start wiping off from the edges slowly as you move to the central part.
You can also use a mild detergent or a diluted dishwashing liquid with a damp cloth.
Once the white cloth is not pulling up the stain anymore, ensure you neatly remove the soap or detergent residue.
Allow air drying of the spot naturally.
Vacuum Cleaning of a Flokati Rug
Vacuum cleaning after a specific interval of time keeps a healthy rug using suction only for this process.
Using a beater brush causes immense damage to the long rug fibres, often pulling them out of their position, leading to permanent damage and wearing off the rug.
When the vacuum does not permit you to switch off the beater brush, it is better to use an upholstery attachment manually.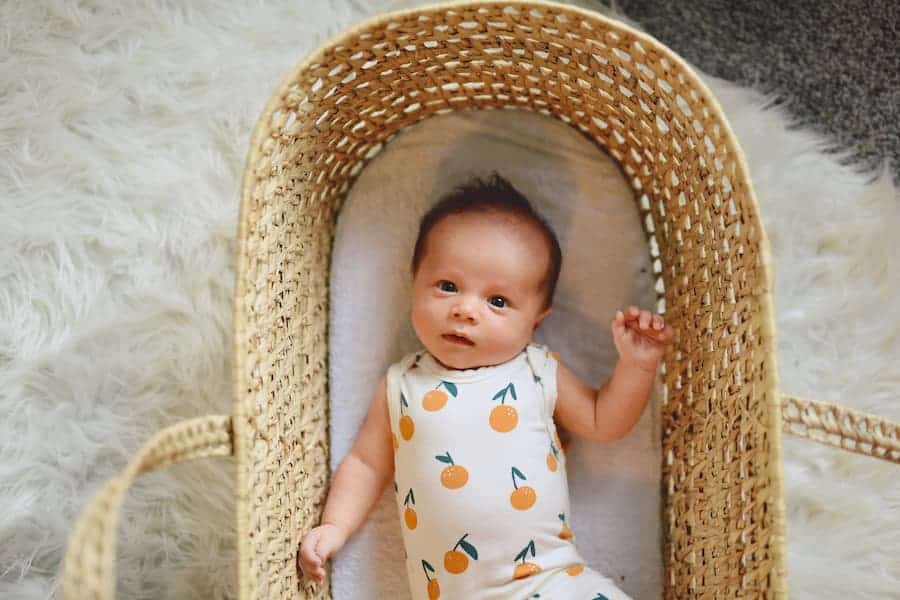 Cleaning Technique Varies With the Size of a Flokati Rug
A Small Flokati Rug (Approximate Size Lesser or Equal to 24 Meter Sq.)
Step 1: Shake Off Your Flokati
Shaking the rug well gives it a new look instantly. Roll up your flokati rug, carry it outdoors and shake it off as many times possible. Catch hold of the ends of the rugs firmly.
Start with a very powerful shake. Continue shaking till it appears clean; the dirt is dusted off. The crumbs, particles, and debris have fallen off.
Shaking off will drive away from the dust particles in the fastest way possible. This is a very shortcut and user-friendly way of cleaning your flokati rug.
Step 2: Air the Flokati
Breathing is essential for organic fibers. Exposing your rug to fresh oxygen rejuvenates the fibers, helps eliminate stale odors, and prevents microbial growth.
Avoid direct sunlight exposure as heat damages the woollen fiber proteins.
Step 3: Wash Your Flokati
To help revive the fibers of your Flokati rug's density and thickness, wash it directly in your washing machine. Set the machine to a mild cycle mechanism.
You can use a wool-friendly detergent followed by a mild fabric softener too for a better cleaning result. Once the washing process is over, hang it in the shade to naturally air dry the soaked rug. Never use a dryer.
Direct sun rays should be avoided. Once it is dry, brush the flokati rug with the help of a metal brush, often known as a dog brush. Start brushing from the center of the rug and slowly move your strokes outward.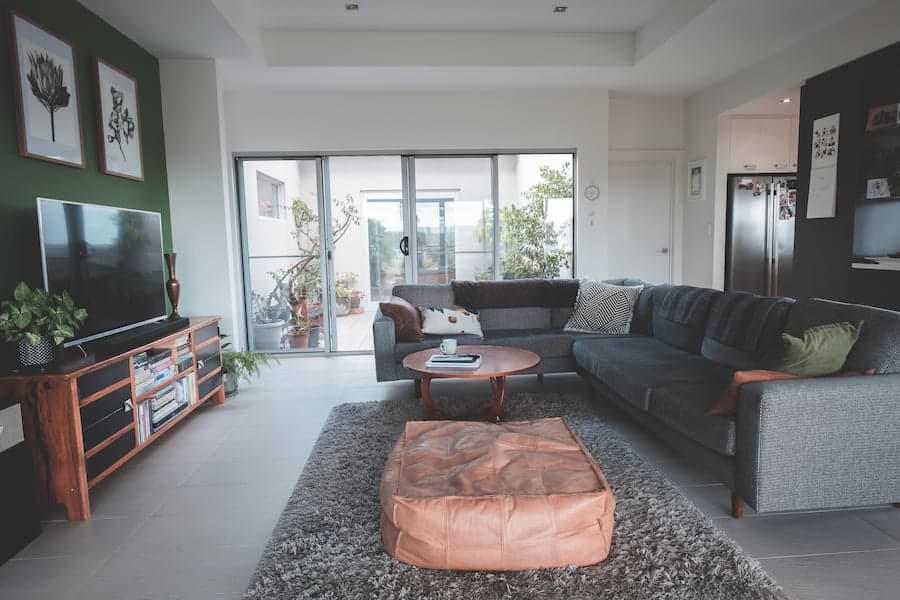 The fluff of the rug is regained in the process. So if the fibers get caught in the brush, don't worry; this is a very ordinary experience.
A Large Size Flokati Rug of Size of Area Exceeding 24 Sq. Ft.
Shaking Your Jumbo Flokati
Having a partner when it comes to the shaking process technique to cleaning a flokati rug is a must. Then, you and your partner can carry it off to an open area.
Flip it by holding the corners firmly. Keep on flipping it until it appears clean as desired. The shaking process is a little complicated when it comes to a big size rug. It might be heavy. You can ask one more member to help you out in the process if you feel two persons are insufficient.
When you don't have a partner for a huge flokati rug, you can hang it and use a big brush or a broomstick to drive away from the dust particles.
Washing Technique
The spray technique is way easier than a machine-washing method for a large-sized flokati. The liquid in the spray bottle should contain a cleaning agent. Some household cleaning agents are beer, wine, shaving cream, and rubbing alcohol. It is left to dry under mild sunrays and sufficient air to get air-dried.
Here is a quick video link for more information on how machines wash a flokati rug. 
What to Keep In Mind When Cleaning a Flokati Rug
Heat damages wool: Wool cannot stand the heat; they shrink and get damaged when exposed to hot water or air. Always use cold water and let the rug air dry.
Do not turn on the beater brush in the vacuum cleaner: When a vacuum cleaner is used, restrict the use of a beater brush. It damages the flokati rug instead of cleaning it.
Avoid a wrong soap/detergent: A soap that lathers too much is not suitable for spot cleaning. They might leave off a residue on the rug, giving a stain-like patch. Not all stains respond to all soaps/ detergents. They might react with each other to give a worse discoloration on the rug.
Avoid too much soap/detergent: Using too much cleaning agents will need more care while removing them. Also, any leftover detergent tends to attract more dirt; a crunchy layer gets formed on the rug, which will rub against your feet on walking over it.
Never rub your flokati too much: Rubbing is a big mistake. It only helps to spread the stain deeper into the fibers. As discussed in the article, the blotting technique will help soak the stain in the cloth over time.
Do not use a single towel in the blotting technique: Using multiple towels for blotting ensures a higher transfer of the spill/stain from the rug to the towel. Avoid using a coloured towel in this process. In case the colour of the towel reacts with the spilled liquid of the rug and gets transferred into it. Unfortunately, it is not possible to reverse it.
Do not over wet the area: It is natural to overwet the rug while cleaning the spill/stain on it. However, make sure that only a requisite amount of water is used that dries within 24 hours. Or else it may lead to dampening problems and invite the growth of germs in the rug.
Cleaning Agents Not to Be Used on Flokati
Bleach – They discolour the rug.
Abrasive cleaners – Abrasive cleaners or solutions make the fibres fray and weak, damaging fibres.
Laundry detergents – The soap residue may be difficult to wash and create a crunchy stain.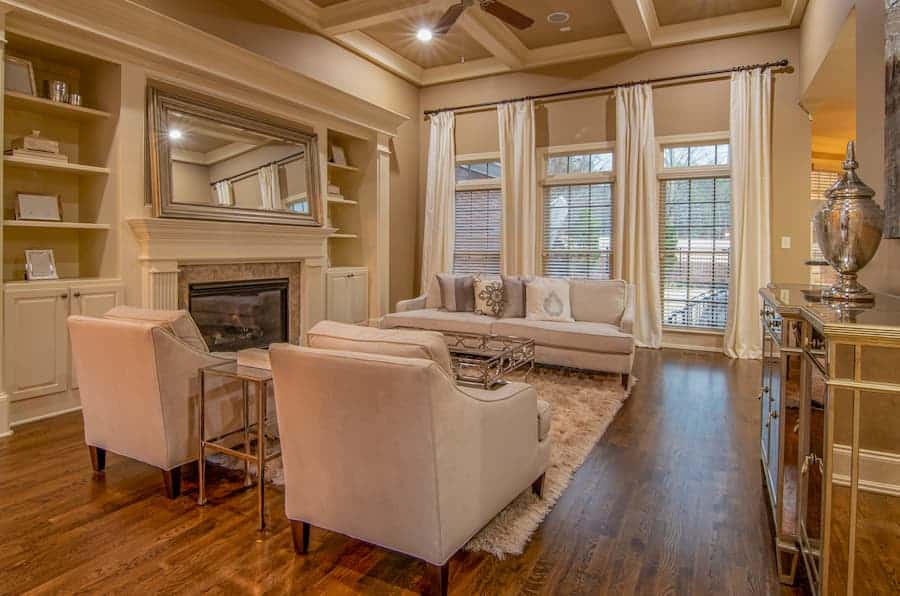 Frequently Asked Questions
What Weight of Flokati Rug Should Be Used?
Flokati rugs available in the market are of three different weights- 2000 grams, 3000 grams, and 4000 grams. The 2000 grams is the thinnest of all, the 3000 grams have moderate fluffiness, and the 4000 one is the thickest of all.
For a high traffic room, like the guest room or kids' room, the 2000 or the 3000 one can be used as they are easy to clean.
On the other hand, for a low traffic room like a bedroom, a 4000 grams flokati gives the most plush and adds to the rooms furnished.
What Colour of Flokati Rug Is Easier to Maintain?
For the flokati rug, white is the best colour. It is a complete myth that white gets dirtier fast. A white flokati rug is more resilient than darker shade ones as they wear fast.
Conclusion
A proper flokati rug consists of 100% woolen fibers. The lanolin sheep oil content makes the rug lost lasting and flame resistant as well. When maintained and cleaned, they can be used for many years.
Also, synthetic and leather flokati rugs are available in the market. The fluffy rug fibers trap dirt in them. Annual professional cleaning of the rug is a must to replenish it.