As an Amazon Associate we earn from qualifying purchases.
Adidas suede shoes are very popular footwear and are loved by almost everyone. Not only does it provide the utmost comfort, but it also adds a decent brand value, apart from a superior taste. In this article, you will see how to clean an Adidas suede shoe.
How To Clean Adidas Suede Shoes
Suede shoes can be tough to clean, given that it is the bottom-side of leather and is absorbent in nature. So, it grabs every drop or spill that comes its way.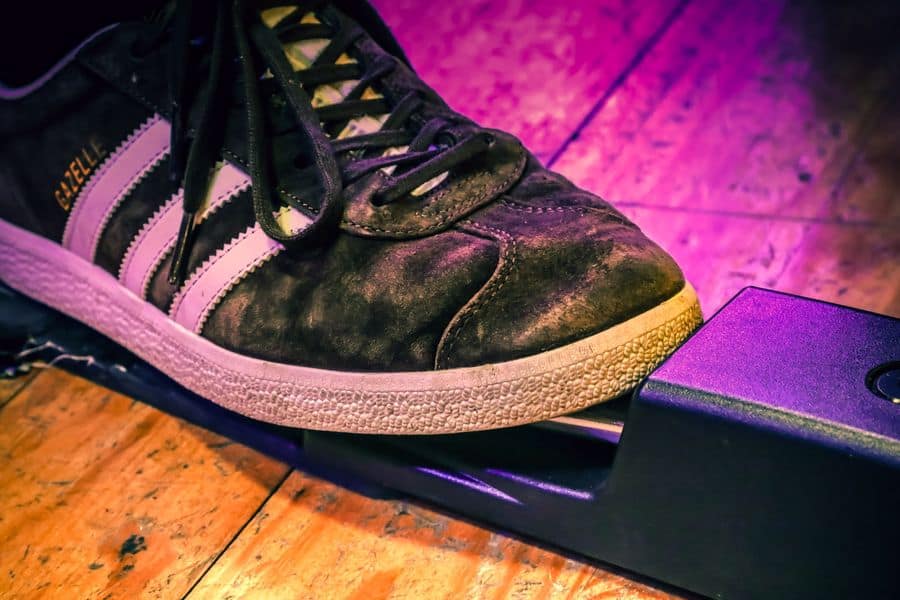 Method 1: Use A Suede Cleaning Kit
This method involves using a cleaning kit containing a suede cleaning eraser and a crepe brush for cleaning, which can actually be used to clean moccasins as well.
Use a water spray bottle to moisten the surface of the shoe before you begin to clean with your suede cleaning kit.
After that, use the crepe brush to remove all visible stains from the shoe. Rub it slowly to loosen all dust particles.
Now, it is time to use the suede cleaning eraser, an effective tool for cleaning shoes.
It's a sensitive cleansing utility and be gentle while using it. Reduce friction while using it and apply moderate pressure.
Alternately keep using the eraser and cape brush until all stain marks are removed from the surface of your Adidas suede shoe.
No matter which brand the suede shoes are from, it's essential to follow the right cleaning method.
Method 2: Use White Vinegar
Food stains on your shoe can tar their appearance and is difficult to remove using traditional cleaning techniques. The acetic acid in vinegar can come to your rescue.
For this method, you'll need vinegar, including some amount of warm water, some clean cotton cloth, and a suede cleaning brush.
Take a container and pour two cups of warm water and one cup of white vinegar. Stir it well to ensure the liquids are uniformly mixed.
Take a clean cotton cloth and dip it in the solution. Make sure the cotton cloth is clean and keep it dipped for about ten to fifteen minutes.
Apply the soaked cloth on the visible stains and scuff marks. Scrub them gently, ensuring that you don't damage the material of the shoe.
Start with the smaller stain marks and then move towards the bigger ones. Once you have cleaned it, let the shoe dry for some time.
If there are any marks still visible, clean them using the suede cleaning brush.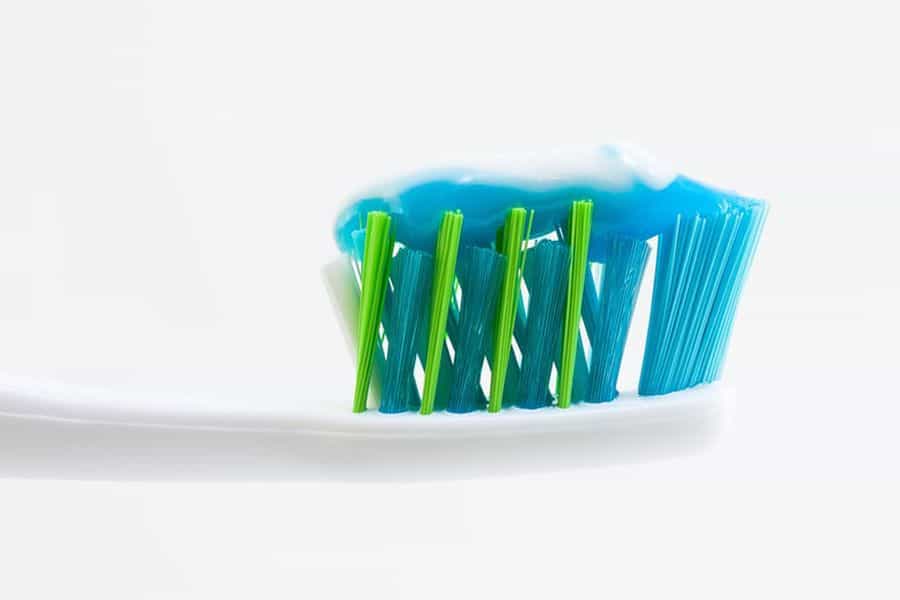 Method 3: Use Toothpaste And Toothbrush
Apart from our dental routine, the basic nature of regular toothpaste helps to clean stain marks on your Adidas suede shoes as well.
The other things required are a soft bristle toothbrush, a clean cotton cloth, some warm water. The toothpaste you use should be white.
Use a warm water spray to get the surface of your shoe moisturized adequately before you begin cleaning with the toothpaste.
Identify the areas of the shoe that require cleaning and apply toothpaste to those areas. Be careful about the amount of toothpaste you use.
Spread the toothpaste uniformly over the stain marks using a toothbrush having soft bristles. The soft bristles reduce the chances of damage to the shoe.
Rub with the brush and check continuously if the stain marks are removed. Repeat the process till satisfaction and make sure to use the brush gently.
Then take the soft cotton cloth and dip it in some warm water. Use this cloth to remove the remaining white toothpaste from the surface of the shoe.
After this, dry it properly. It is recommended to dry the shoes under sunlight as it can kill any potential bacterial growth.
Method 4: Use Rubbing Alcohol 
Rubbing alcohol is an effective cleaning agent and can be used to clean the suede shoe.
You should also keep a suede eraser and some cotton balls by your side for this process.
Check the shoe for parts that are most dirty as they need to be cleaned first. Once you have identified them, apply to rub alcohol on those parts.
Instead of directly rubbing alcohol, use some cotton balls to dip in the rubbing alcohol and use them.
Rub the cotton balls gently on the stain marks until they have vanished.
If there are any remaining dirt marks, you can use your suede eraser to get rid of them.
This method is best suited for cleaning ink stains or mud marks.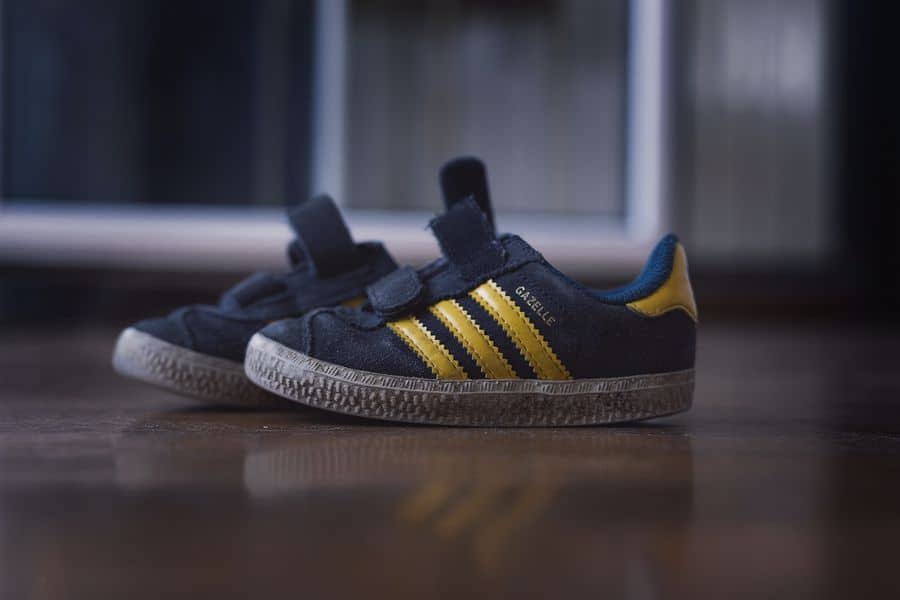 Method 5: Use Cornstarch
Cornstarch available in your kitchen can be used to clean your Adidas suede shoe. It shows the best results when you need to remove oil or grease stains from your shoe.
Take some cornstarch powder and sprinkle it over the surface of your shoe. Make sure the shoe is adequately covered and let it stand for about 24 hours.
After the powder has stayed on the shoe for long enough, you need to use a suede clean brush to remove all the shoe's oil stains and grease marks.
While traditional cleaning methods find it difficult to remove oil stains, this process is simple and effective. It also removes foul smells coming from the shoes.
Here's a video guide to help you with cleaning Adidas suede shoes.
Frequently Asked Questions
How Frequently Should An Adidas Suede Shoe Be Cleaned?
How frequently you should clean an Adidas suede shoe depends on how often you use it and in what conditions. Applying too much water on it can damage it, and hence you should take care about how often you wash it. Cleaning the shoe once in two months should be enough for moderate users.
Is Cleaning An Adidas Suede Shoe Expensive?
Most of the items you need to clean your Adidas suede shoe are items of daily use. The suede cleaning kit lasts for a long time after buying, and you can use it for other suede products. It is a reasonable expense considering the potential of long-term use.
Conclusion
Adidas suede shoes are a great item to wear on suitable occasions. With time, it naturally gets dirty, and cleaning it can make it look brand new. The cleaning process is simple, and if done with care, you will have an excellent time using your footwear.