As an Amazon Associate we earn from qualifying purchases.
RC cars are more than just toys now. With so many mechanical and electrical components embedded in them, they demand proper maintenance. However, people might find cleaning them a hassle. But, with the proper steps, cleaning a RC car is achievable.
How To Clean A RC Car
Knowing how to clean a RC car is important, as it affects their performance abilities. Therefore, follow these methods and steps: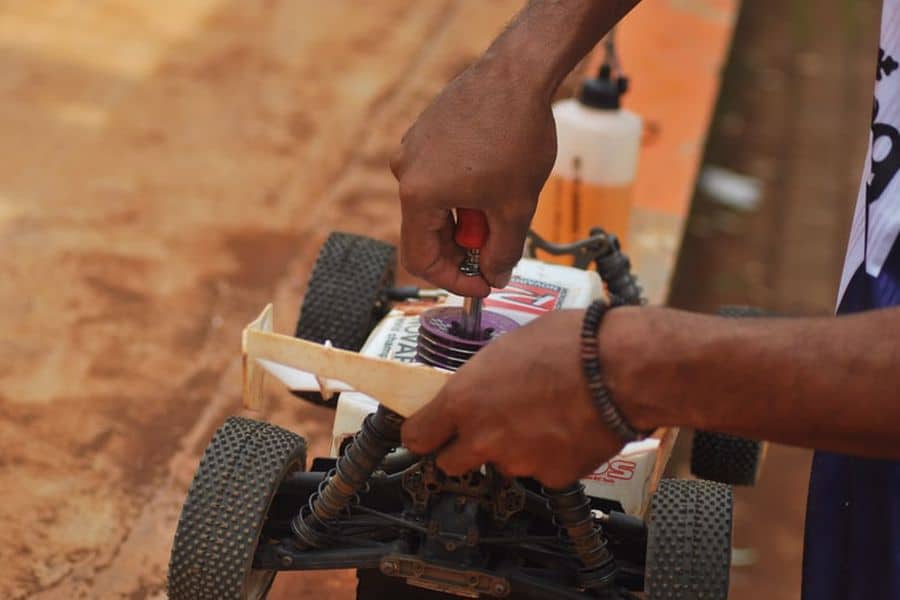 Cleaning Method: Cleaning the RC Car with General/DIY Cleaner Solution
It is the most commonly preferred method. Moreover, it is easy, convenient and practical, when you carry it out properly. Here's what you should do: 
Step 1: Remove the Batteries from the Car
Remove all the power sources and electrical components. 
However, use essential tools to remove the batteries. 
Step 2: Remove the Loose Dust or Debris from the Whole Car
Use compressed air and brush to remove dust, dirt, and loose debris from all over the RC car body, including the battery and wiring regions. Make sure you clean the chassis, motors, bearings, and heat sink. It is important before you can move onto the next step. 
Step 3: Remove Tires and do the Cleaning
Remove the tires carefully by unfastening the joints and screws. 
Use a low-pressure water hose for cleaning the tires.
Scrub them with an old toothbrush. 
Remove all the muddy debris and dirt from the tires.
Now, clean it with water. 
With tires removed, clean the visible steering and suspension area.
Remember to cover the breathing hole of all the tires. It is to prevent water from getting inside and causing damage. 
Tip!
It is essential to clean the tires on priority because they keep the car stable. Weight imbalance in four wheels will result in causing vibrations to the car, and stability will deteriorate. Hence, it would help if you cleaned it properly.
Step 4: Spray DIY Cleaner to the RC Car & its Parts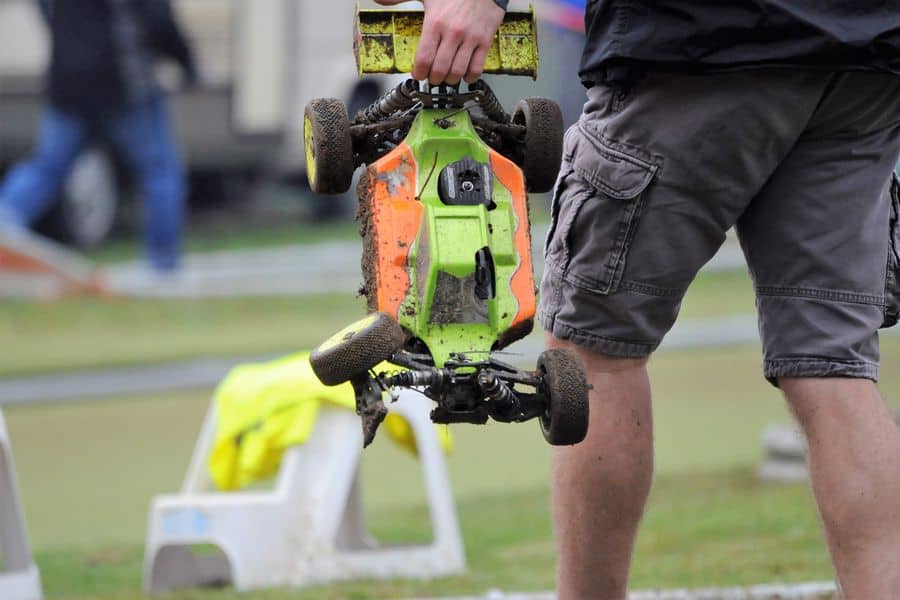 Prepare a DIY cleaner solution by mixing warm water and mild detergent.
As the parts are out, you can now spray the cleaner on the RC car unit. 
If your steering, suspension, tires, and other parts are waterproof, you can spray them as well.
Remove the caked mud or dirt from the car and its parts by using a toothbrush. 
Repeat the process unless the car and its parts are spotless. 
In case the RC car is not waterproof, then you might have to use a different cleaning agent and follow the below steps:
Use denatured alcohol for non-waterproof RC cars and parts.
I prefer alcohol wipes for removing dirt and debris from the chassis.
Use a toothbrush to apply denatured alcohol to the nook and corners of your RC car.
Step 5: Dry the RC Car
The final step is to dry the RC car under sunlight in a clean surface like your deck, for quite some time. The water should drip off and completely dry before you fit the parts. However, if you wish to get over this faster, blow low-pressure air to dry the water.
Along with that, you can also use a dry cloth to remove excessive moisture. 
Step 6: Check for the Rust and Spray Anti-Rust Solutions
If you have an old RC car, then you need to check on the possibility of rust on metal parts, similar on how you check for rusts on skateboard bearings. Look closely, and if you find any, use chemical or anti-rust sprays on them. You need to mandatorily spray them on the metal caps and bearings once the cleaning is over.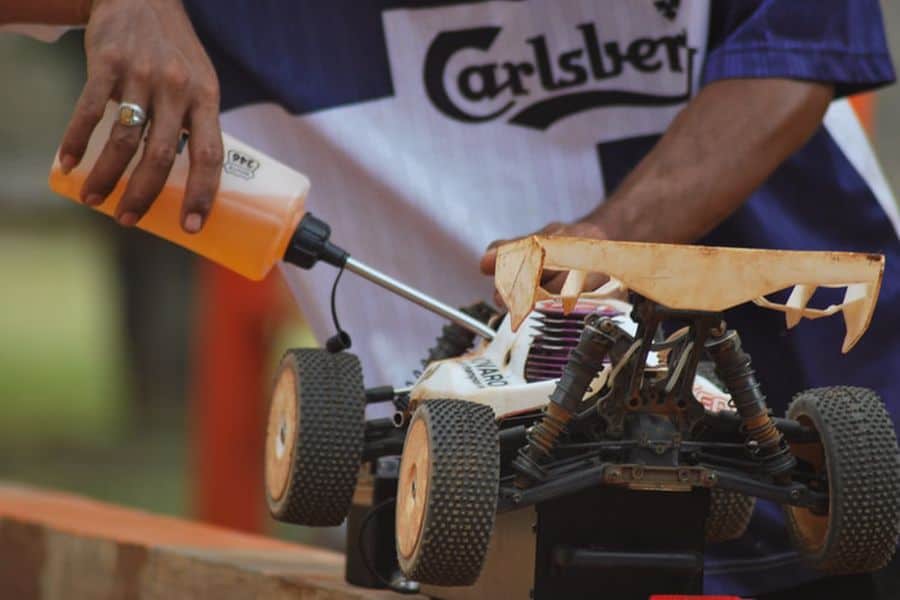 Step 7: Lubricate the Moving Parts & Joints
Use WD 40 oil to re-lubricate all the moving parts and joints, they are great for lubricating spark plugs and paint ball guns as well.
Lubricate the drive train and suspension components.
After lubrication is over, reassemble the car. 
This video will give a clear understanding of cleaning a RC car.
Frequently Asked Questions (FAQs)
How Frequently Should I Clean My RC Car?
You should clean your RC car after every off-road spin. The dirt and debris will get into the gearbox of your car, and it might increase the possibility of rusting. So, depending upon where you take the RC car for a spin, you need to plan out your cleaning sessions.
Is the Cleanliness of the RC Car Responsible for its High-End Performance?
Yes, indeed. The tires, wheel bearings, and suspensions should be free from dust or debris to function smoothly. Frequent lubrication is essential for the smooth mechanical operations of the RC car. 
For more excellent tips about how to clean a RC car, read this post.
Conclusion
Stick to these steps, and you will provide your RC car the boost it needs. Furthermore, even if the RC car you use is an older variant, it will still perform superbly with timely and proper cleaning. So, what are you waiting for? Start the cleaning process asap.
We also have a guide for cleaning your toy batteries, to better enjoy your RC car.