As an Amazon Associate we earn from qualifying purchases.
Tile countertops add glamour to the kitchen but accumulate a lot of stain and dirt over time. It is a common problem that homework owners can't avoid.
However, you have to maintain these structures to keep them hygienic. Therefore, they need thorough and daily cleaning to ensure proper kitchen hygiene to elevate their life.
How to Clean Tile Countertops
Messy kitchen countertops can become breeding grounds for hazardous bacteria and fungi. Therefore, learn how to clean tile countertops with daily use substances using this guide.
Method 1: Cleaning Tile Countertops With Vinegar & Warm Water
Vinegar and water are the two basic things you need to clean your tile countertop, they are also a great mixture to clean porcelain figurines and travertine tiles. To make the right use of it, you need to make a mixture proportionately.
Prepare a 1:1 ratio solution of vinegar and warm water. 
Take a stiff brush with bristles and dip it into the solution. 
Now, scrub the tile countertops with the brush.
Do it until you remove all the stains from the tiles.
Now, use water and a clean damp cloth to remove the solution residues.
Use a clean cloth to wipe and dry off the tile countertops.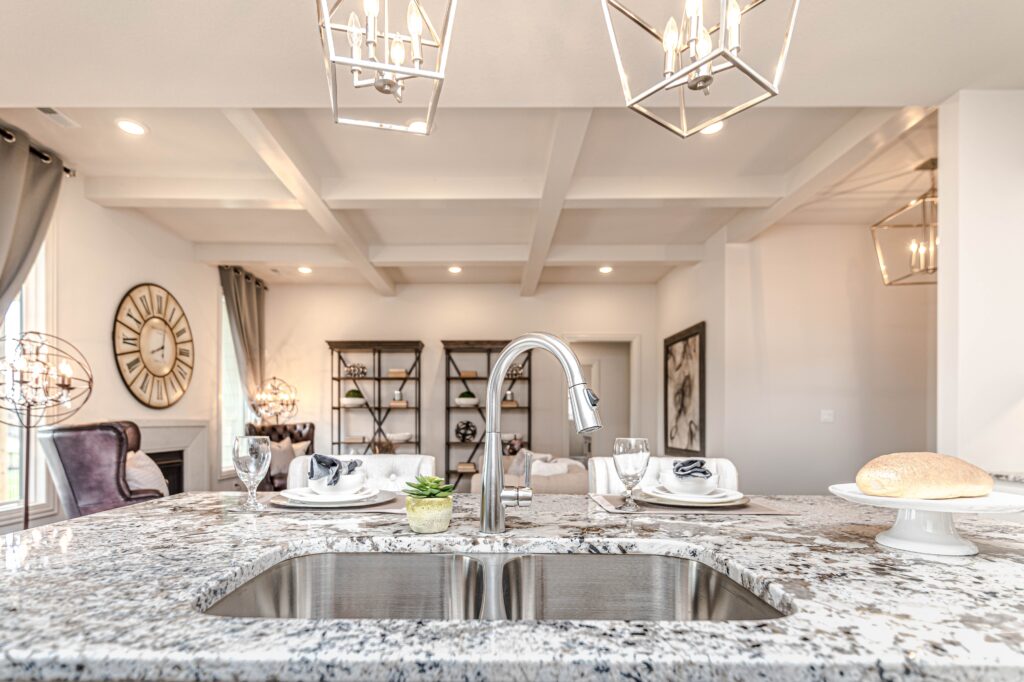 Method 2: Cleaning Tile Countertops With Baking Soda & Hydrogen
This method is used explicitly for tough stains and spots over tile countertops.
First, you must prepare a paste of hydrogen peroxide and baking soda.
Mix both the components in a sterile jar in the ratio of 1:4. After adding the components, agitate the jar to make the solution more homogeneous.
To rub the mixture on the tile surface, you can use a tiny scrub or an old toothbrush. Spot the stains or the rough areas on the countertop before applying the mixture.
Also, rinse the tile surface with warm water. Now, start rubbing the rough spots on the countertop with the toothbrush.
After some time, you can see the stains coming out of the surface. Now, rinse the surface again with hot water and alcohol-containing spirit.
Method 3: Cleaning the Tile Countertops With Oxygen-Bleach Solution
Oxygen Bleach solutions are commercial products and are available especially for such cleaning purposes. 
Get the commercial-grade oxygen bleach solution from the market. You might get better deals on online marketplaces.
You will need a sponge to apply the solution on the tile countertops. Wash the sponge with warm water and detergent to eliminate hidden dirt.
Dilute the solution with some water and apply it to the tiles. You can use a pair of leather gloves or an old toothbrush for that purpose.
Let it settle for some time over the countertop. During this period, close the doors and windows to restrict sunlight and dust.
Now, use a clean cloth to wipe the countertops, and you can sprinkle some water while wiping. To sprinkle water, you can use an atomizer or a spare spray container.
Leave no residues of the cleaning solution behind, as it might resettle in the grout lines. To make that happen, use a scrub with plastic bristles and rub gently.
Let the grout dry for around 24 hours.
We suggest using a grout sealer on the tile countertops after the surface is dry. Use an alcohol-rich sanitizer to make the grout surface free from germs.
Method 4: Day-to-Day Cleaning Solution for Tile Countertops
It is necessary to clean the tile countertops daily to maintain the look, hygiene, and cleanliness. Here's what you need to do:
Step 1: Prepare a Natural Homemade Cleaning Solution
Add one ⅔ cup of baking soda.
Put ½ cup of liquid soap.
Add ½ cup of water.
Finally, add two tablespoons of vinegar. 
Step 2: Clean the Countertop
Use a clean cloth or a sponge. You can also use a microfiber cloth for that purpose.
Dip it in the cleaning solution and agitate the mixture.
Apply it over the tile countertops by buffing in an anti-clockwise direction.
Rinse the tiles and grouts with clean hot water.
Use a dry clean cloth to wipe the tile countertops. You can also lay the cloth on the surface to avoid fiber discharge.
Tips to Clean Countertops
The way you clean countertops will vary depending on the material and type of countertop they're.
For Natural Stones
There are specific chemical cleaners depending on the surface type. Cleaning natural stone such as marble is complex, as it has a porous texture.
Another problem with quartz is that the texture stains if you spill too much. As it is also sensitive to heat, you should get a trivet beforehand.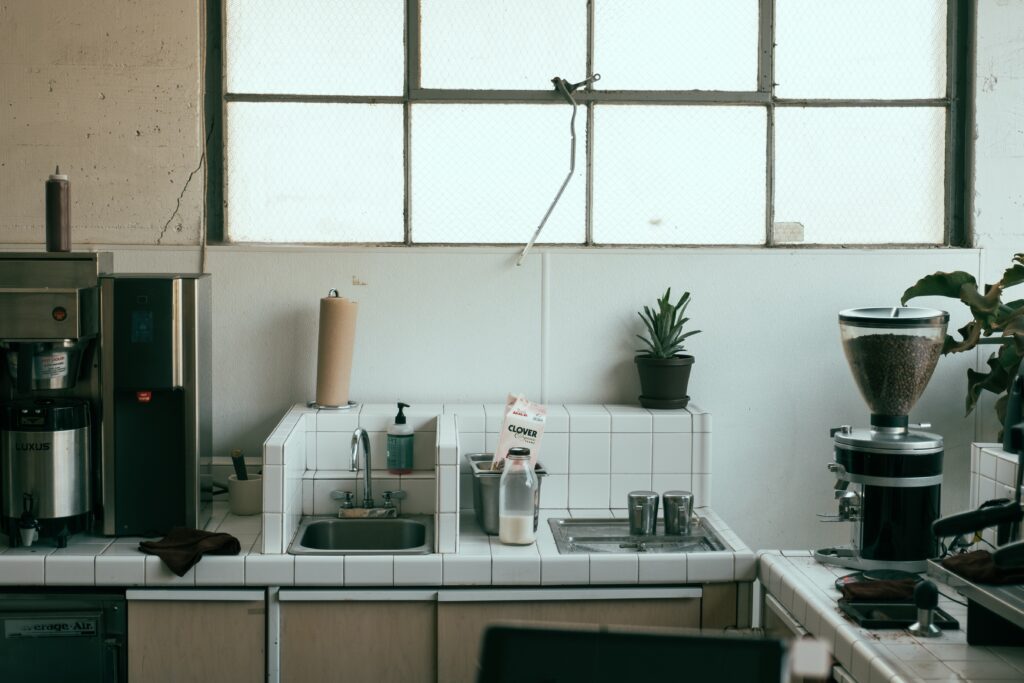 Using acidic cleaners such as lemon juice or vinegar degrades the texture of such surfaces. Also, bleaching natural stones will do more harm than good. 
So, to prevent staining on these natural stones, use neutral soaps or diluted ammonia. They work great as a cleaning mixture for titanium rings as well. You can also use alcohol-containing spirit to disinfect and sanitize the texture.
For Butcher-Block Countertops
For cleaning butcher-block countertops, you will need dish soap, scrub with plastic bristles, and some hot water. Wash the surface with hot water and then apply the mild soap or detergent to it, similar to what you might use for cleaning painted bricks. If you are using a scrub with metal bristles, rub smoothly.
Again, wash the surface of the butcher-block countertops with hot water to remove the soap film. Use a sponge or a clean, dry cloth to rub the surface and leave it to dry.
You can also use baking soda instead of soaps and detergents to clean butcher-block countertops. Make a slurry paste of baking soda with lukewarm water and apply it to the surface. In the end, use white vinegar to disinfect the surface.
For Laminate Stones
The first stage of cleaning laminate stones is similar to butcher-block countertops. You will need hot water, any soap or mild detergent, and a clean microfiber cloth.
Do not use woolen or cotton cloth as they shed fibers on rubbing. Wet the microfiber cloth with warm water and leave it to dry for some time. You can use a scrub with plastic bristles but avoid those with metallic ones.
Don't bleach the surface of laminate stones, as doing such causes discoloration. Be careful while dealing with the substrate below the stone. Pouring warm water over it makes the surface swell.
For Concrete Countertops
If you want to clean and maintain concrete countertops every day, do it with warm water. Moreover, you will need hot water, a detergent, and a dish sponge to scrub the surface.
It's better to use scrubs with metallic bristles instead of plastic ones to remove residue thoroughly. Rinse the concrete surface with hot water and apply the mild detergent over it.
To clean a sealed concrete countertop, prepare a mixture of alcohol and water. Diluted alcohol acts as a sanitizer that helps to kill most germs. This also a great tip for sanitizing quartz countertops.
Prepare the alcohol-water mixture in the ratio of 1:4 in an atomizer. You can also use a spare spray bottle for that purpose.
After spraying the diluted alcohol on the surface, leave the concrete to dry for some time. You can also place a microfiber cloth on the surface to make drying faster.
For Steel Countertops
You need three basic things to clean your steel countertops: warm water, a mild detergent, and a dry piece of cloth. If your metallic countertop is seriously stained, use a scrub with metallic bristles. You can also use any other durable non-abrasive scrubber.
Use baking soda or any other mild base like dilute ammonia to clean the surface. Avoid using acidic cleaners as they might react with metals to form metallic oxides.
These elements are responsible for causing stains in your steel countertops. Start your rubbing process by buffing around the corner in the anticlockwise direction.
Stainless steel gets smudges and fingerprints quickly. Therefore, you can use apply drops of olive oil to the surface to polish it.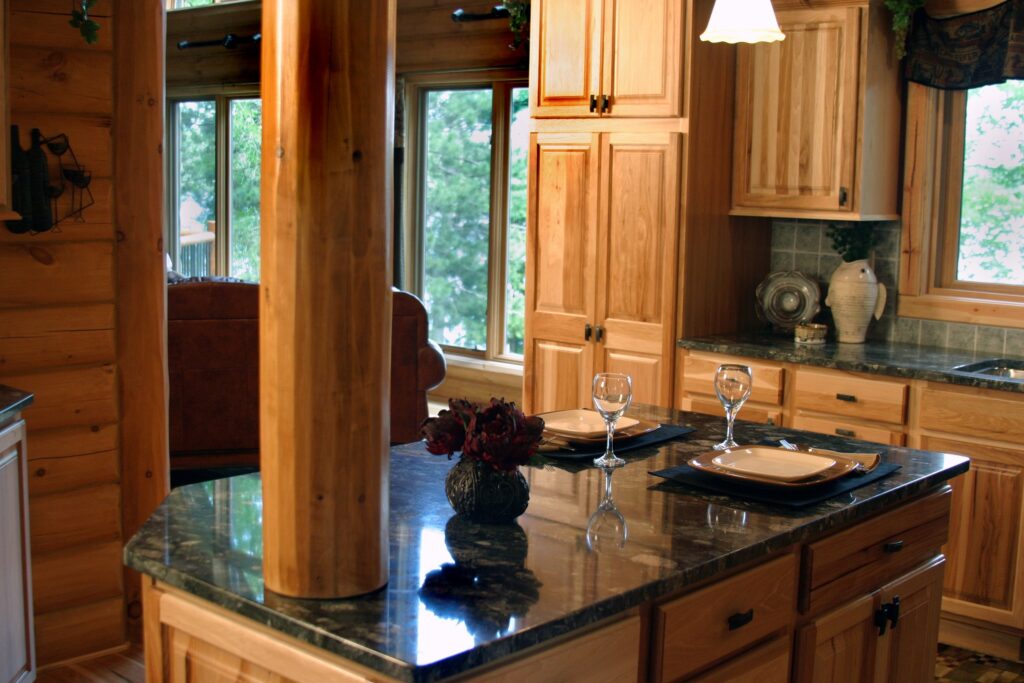 Frequently Asked Questions
How Many Times Should I Clean My Tile Countertops in a Year?
It would be best to opt for deep cleaning the tiles at least four to five times a year. However, you also need to do the usual and daily cleaning of the tile countertops after all-day use.
Natural or Commercial Cleaning Solutions for Tile Countertops – Which Is More Effective?
Both natural and commercial cleaning solutions are pretty effective in giving the desired outcomes. Using natural DIY solutions will help you save money on cleaning tasks.
However, if you are unable to get the expected cleanliness, you can always buy commercial cleaners. It solely depends on your choice.
Conclusion
Every method mentioned above describes a different approach towards cleaning and maintaining the tile countertops. Therefore, you need to check the intensity of your stains and dirt over the tiles. This also applies to floor tiles that need cleaning, such as Mexican floor tiles.
After getting an assumption, select a suitable method for the cleaning process.  However, there are countertops of varying textures and materials.
Each material is reactive to a specific cleaner in a different way. A wrong material-cleaner combination does more harm than good.