As an Amazon Associate we earn from qualifying purchases.
Are you a nail art fanatic? Are you a professional who uses acrylic nail brushes often in a salon? If yes, then you should put your efforts into keeping them clean over time.
It is because if the acrylic residue hardens upon the bristles of the nail brush, then it might be really tough to clean. Therefore, cleaning these residues right after use is better than opting to clean them later. Regular cleaning of the acrylic nail brushes will also ensure that the bristles remain soft & flexible for a long time.
How to Clean Acrylic Nail Brushes
Almost all nail technicians have that concern in their mind to maintain the nail tools efficiently. Lack of time and resources might be a problem for them to look after the cleaning concerns for acrylic nail brushes. But not anymore!
Whether you like to do art over your nail extensions at home or are a professional, following the quick and easy cleaning methods will help you maintain your nail brushes proficiently. Therefore, it is essential for you to learn how to clean acrylic nail brushes. And this article will act as a guide for the same!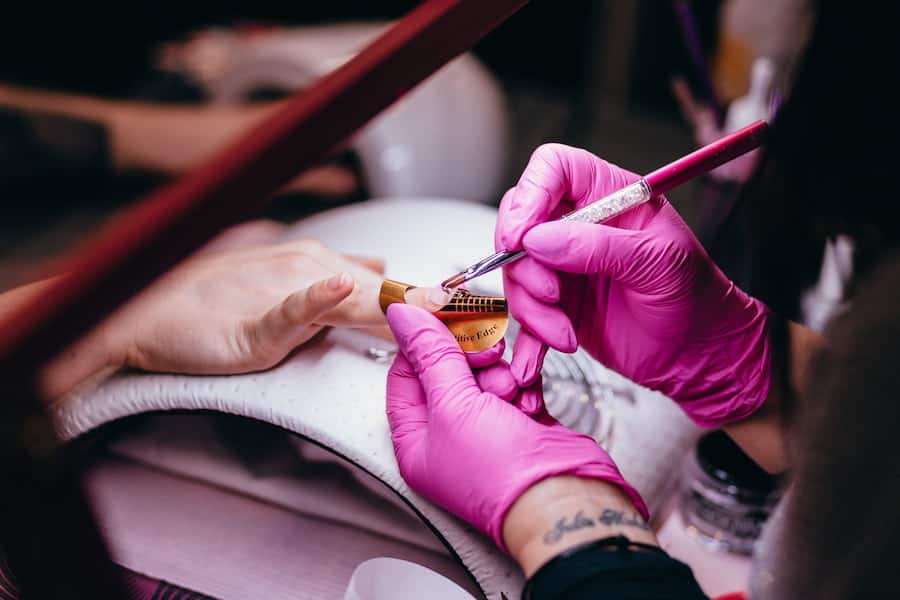 Method 1: Cleaning With Commercial Cleaning Solution & Monomer
The first and the most effective method or cleaning approach for nail brushes is the use of a monomer. Here are the steps to help you approach this method of cleaning:
Step 1: Get All the Supplies
Apart from just monomer, you will need some other supplies as well, that includes:
Paper towel
Small glass container or a jar
A commercial nail brush cleaning product from an online or offline store.
Buy the commercial nail cleaning product and the monomer, while the rest of the supplies are readily available at every residence. When you have them all, move on to the next step.
Step 2: Cleaning the Acrylic Nail Brush
Pour a little amount of commercial brush cleaning solution into the glass container.
Now, make sure you submerge the acrylic nail brush into the solution container for around 10 seconds. It is to weaken the residues over the bristles of that brush.
Take it out of the container, and then rub or drag the brush back & forth over a paper towel. It is to eradicate any loose residue over the brush.
Now, hold the brush upside down for around 1 minute. It is to let the liquid solutions saturate within the bristles of the acrylic nail brush.
Now, press one side of the brush over another paper towel to remove any of the excessive liquid within the bristles.
Now, pour monomer solution onto a clean glass container.
Dip the brush into that solution and hold it for a while to let the brush retain its original shape.
Now, place your acrylic nail brush at a place to let it air-dry for around 2 hours or more.
When it is completely dry, you can go ahead and make use of it once again.
Repeat the cleaning process after every use. It will help increase the longevity of the brush.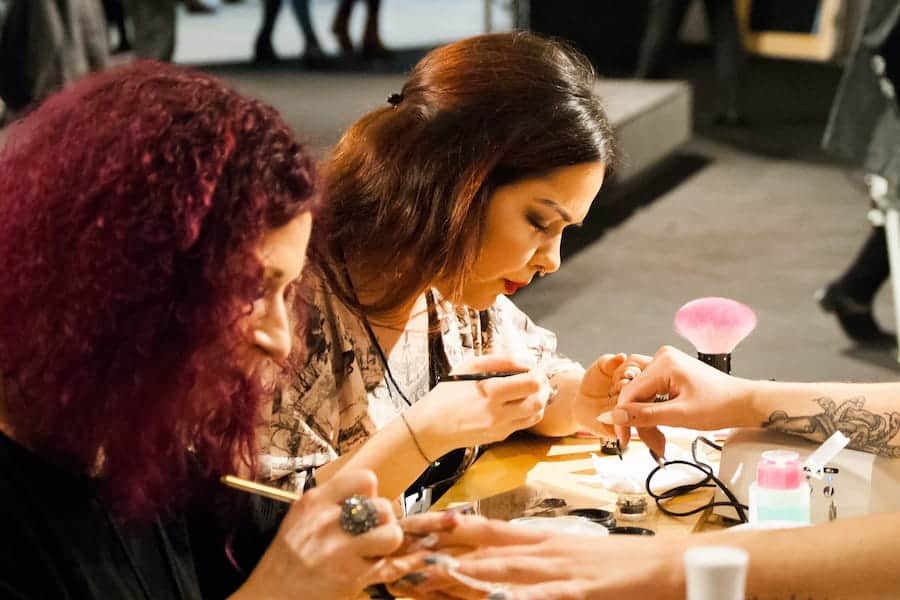 Method 2: Cleaning the Acrylic Nail Brush With Acetone
If you do not want to use any commercial cleaners to maintain your nail brush, then you can use different DIY solutions as well. Here are the steps to help you with the same! 
Step 1: Get the Supplies
You will need 100% pure acetone for this method of cleaning the acrylic brush.
Get a bunch of paper towels.
Also, get a small glass container or a jar.
Metal scraping tools will be helpful. You can use a cuticle pusher for this purpose.
Step 2: The Cleaning Process
Pour a small amount of 100% pure acetone into a glass jar.
Now, put the brush inside that container and let the bristles soak for 10 minutes within it.
Acetone acts the same as that of a commercial cleaning solution.
Now, place the brush over a paper towel and then push it down gently to remove the excess liquid.
Use the metal cuticle pusher to scrape off any of the acrylic residues from the brush.
Now, dunk it again in the acetone container, and take it out.
Repeat steps 3, 4 & 5 until you find your brush free from acrylic residues. It should be visibly clean.
Now, after the brush is clean, it is crucial for you to remove the acetone solution from your brush bristles. If you don't, then it might damage the acrylic brush. Rinse it off with clean water.
Now, let the brush dry for around 2 hours under the air before you can use it again.
If you want a visual demonstration, you can take a look at this video that explains the ideal steps for using acetone to clean acrylic brushes.
Method 3: Cleaning With Monomer & Acetone Mixture
Mix monomer with acetone solution in a ratio of 1:1.
Now, attach a cloth spin to the brush, and then hang it up over the jar.
Then leave it for around two days in that same hanging position.
Let the acetone evaporate away to leave behind a soft and silky brush.
Method 4: Cleaning Acrylic Nail Brushes With Vinegar Solution
In a glass container, make vinegar and water solution in a 1:2 ratio.
Let the brush soak into that bowl of solution completely for around one hour.
If you notice that the bristles are not bending, then you should let it soak for an hour more.
If you haven't cleaned the brush for a long time, you might need to put it in the vinegar solution for more than two hours, this is a trick that can also be used for cleaning paint brushes.
Rinse it with clean water to see if all the acrylic residues are out. Observe the brush closely, and if you find it unclean, then repeat the steps.
Now, let the brush dry naturally under the air, in a clean surface like your zinc countertop, and then you can consider reusing it when it is completely dry.
Fixing up the Misshaped Acrylic Nail Brush Bristles
Use a bowl with a mild liquid soap solution in it.
Coat your acrylic nail brush with the solution.
Let it soak for around 48 hours.
Now, rinse the acrylic nail brush in cold water.
And then, you must dip the brush into the bowl of the monomer solution.
Take it out and let it air dry for around 2 hours to fix the shape of your brush's bristles.
If you want to get a better visual idea of how you can reshape the acrylic brush to its natural form, then this article has a video link for you to access. It has a brief explanation of the step-by-step execution to help you understand the method better. Check out the video here!
Frequently Asked Questions
How to Sanitize the Nail Brushes?
Firstly, you should wash your hands with soap. Now place the acrylic or any type of nail brush in a bowl. Pour around 70%-90% Isopropyl Alcohol over the bowl and brush, this is similar to how you can clean acrylic paint palettes. Let the brush completely submerge within the bowl.
Now, let the brush soak in that solution for around 5 minutes. In fact, this is an ideal process to sanitize your brush. You can repeat the process for all the other nail art tools as well.
What Size or Type of Acrylic Nail Brush Is Best for Application?
Having the right set of brushes is important for nail artists or individuals to get the best results. In fact, you need to check the holding ability of the bristles. It is because they are responsible for containing the liquid and powder mix for ideal application.
Moreover, you will need different brushes to work around the edges of nails or cuticles for giving some mesmerizing details. Depending on your requirements, you can go with flat or square nail brushes, oval brushes, and others. To know more about the size and type of acrylic brush that is suitable for your nails, don't forget to check out this article!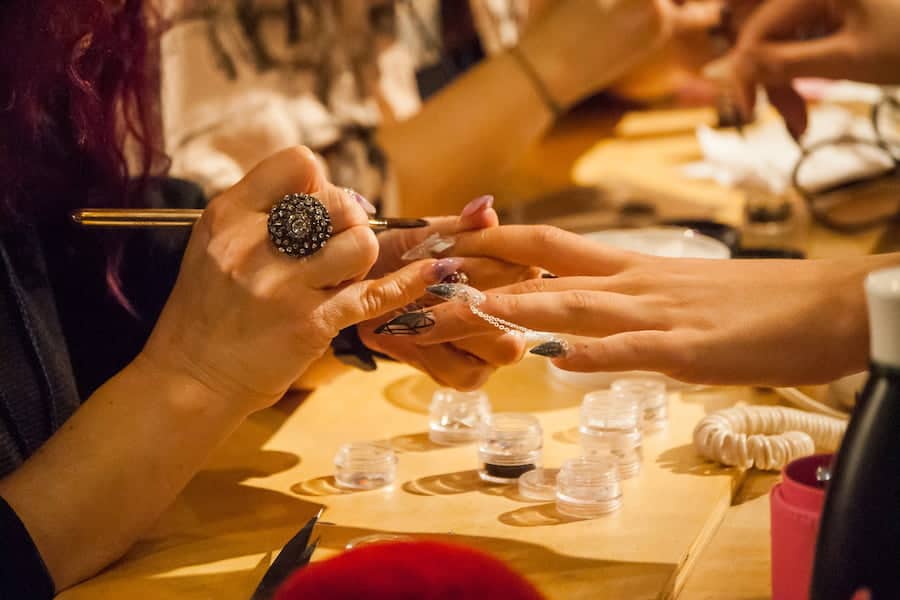 How Long Do the Acrylic Nail Brushes Last?
As per the reviews set by the nail technicians, the brushes last for around 3-12 months. But they need ideal maintenance to ensure that the bristles don't harden or fall out. Therefore, regular cleaning is essential to ensure that these brushes complete their life span.
You can refer to this article to know more about the shelf life of a nail brush.
Conclusion
If you have some acrylic nail brushes lying in your drawer or closet, take them out and give them a cleaning spin. Learn the proper steps, and you will find it easy to revive the softness, flexibility, and effectiveness of the brush. In fact, acrylic brushes aren't that cheap, and maintaining them over time, will make your investment worth it.